Pioneers of Punk Volume 1
From the extreme edge of the counter-culture to a modern mainstream pop-culture phenomena, "Pioneers of Punk" documents the personal journey of the individuals in this scene. A series of up-close and personal interviews offers up an in-depth view into the intimate underpinnings, personal motivations and the individualistic self-expression commonly held by the extraordinary array of unique and uncompromising artists who dramatically impacted and influenced what was once a radically new social and musical movement.

Motivated to take a closer look at what got the Pioneering Individuals into the Punk Rock lifestyle, the Pioneers of Punk is aimed at exploring the minds of the individuals that were instrumental in building this movement and get an insight into one of the most overlooked elements of life, that being a sense of individuality and self. The projects objective is to expose and get to the core value of each person that made up this scene so many years ago and the importance for a young person at that time or anytime to find their niche, their identity, their belonging and their sense of individuality as a human being and in this case within Punk Rock. Film-maker John Foote set out to find the true inspiration and motivation of what he considers to be the American Pioneers of Punk of the late 70's early 80's movement that really propelled the Punk Rock ideology to where it is today and interviewed 14 individuals from such punk bands as Bad Brains, TSOL, Agent Orange, The Adolescents, D.I., 7 Seconds, Agression, Channel 3 and more….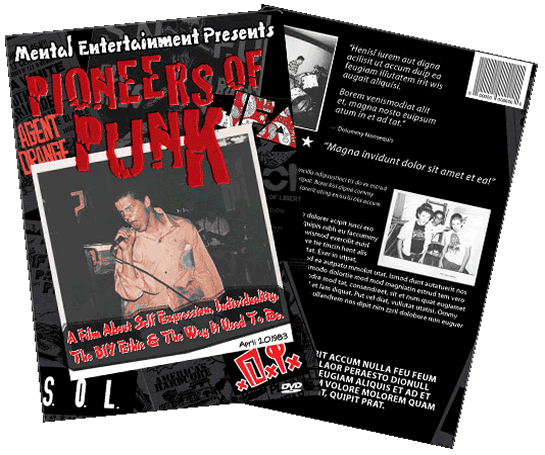 Special Features:

Exclusive Interviews with:
· HR – Bad Brains
· Ron Emory - TSOL
· Mike Palm – Agent Orange
· Brian Brannon – JFA
· Casey Royer – D.I.
· Steve Soto – Adolescents
· Kevin Seconds – 7 Seconds
· Shawn Stern – Youth Brigade / BYO Records
· Mike Magrann / Kimm Gardener – Channel 3
· Becca Porter – Scenester / Another State of Mind
· Duane Peters – "The Master of Disaster" / singer U.S. Bombs
· Larry White – Stalag 13 / Agression
Bonus E.P. featuring custom live Soundtracks from:
JFA
Duane Peters
Channel 3

Live Footage from:
Bad Brains
TSOL
Channel 3
Agent Orange

With additional Old School footage from:
Stalag 13

Photo Gallery
Old School Punk Rock flyer Gallery